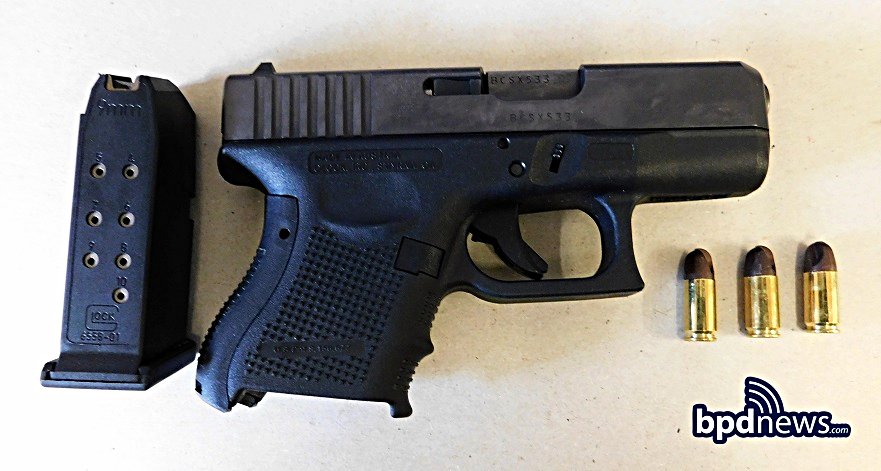 According to the Boston Police twitter feed:
At about 3:43 pm on Tuesday, June 20, 2017, members of the Youth Violence Strike Force . . . observed a black motor vehicle operating . . . make several illegal turns . . . . [O]fficers stopped the car [and] . . . recognized two of the occupants from previous interactions. Fearing the presence of weapons, officers instructed all occupants to exit the car. As the rear occupant was exiting the vehicle, officers observed a firearm on the floor near his feet.
From the recovery of this one firearm the police generate six charges and two arrests, none of which should be allowed to stand up in court. 
Why did the police ask the driver and passenger to exit the vehicle?  Because they "recognized two of the occupants from previous interactions." 
Under Article XIV of the Massachusetts Declaration of Rights, exit orders during routine, lawful stops for ordinary traffic violations must be justified by reasonable articulable suspicion that the officer's safety, or the safety of others, is in danger.  In 1997 the Supreme Judicial Court held that "a routine traffic stop must end on the production of a valid license and registration unless the police have grounds for inferring that 'either the operator or his passengers were involved in the commission of a crime . . . or engaged in other suspicious conduct.'"
The only evidence the police had here was that the driver failed to signal a few turns.  That's not reasonable suspicion as to anything criminal, and for certain not a reason to tell the occupants to exit the vehicle.  Plain and simple, the officers' order that the vehicle's occupants get out was illegal, the firearm should be suppressed, and the defendants should be sent home.